Hello everyone. My name is Ryan. I live in Apple Valley,California. I built my own oven a little more than a year ago. My wife and children really enjoy our evenings around the oven. The oven is 30"wide by 36" deep. I was told
"Go big...or Go home"

We have cooked many pizzas in it, even have come up with some tasty new creations. We have cooked pork roasts, cookies, snack sticks, breads and are just getting into drying vegetables. Particularly tomatoes. Trial and error. I am a part of a great BBQ forum Smoked-Meat.com.
Here I have documented the entire building process. I will post a link to the thread. I am looking forward to learning and sharing here.
The road to a wood fired oven - Smoked-Meat.com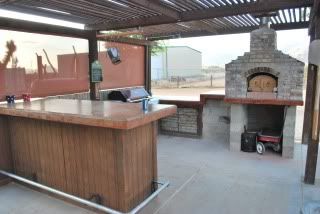 This is a look at our outdoor cooking area.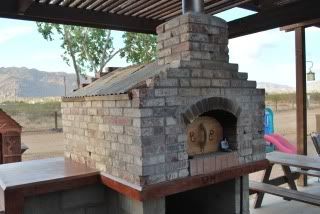 OH! I forgot to mention the fritattas we enjoy, from our oven. Mainly fired by olive wood ,when we cook. Cooked this with the stored thermal heat the next day. 300?, depending on the season, in the morning after a good burn the night before.
Thanks for looking.