Here's my version of the "frankenweber". After doing a bunch of online research and seeing how other people have made these I borrowed the ideas
I liked, made a few tweeks and here's what I ended up with.
The goal of this project is to make a wood burning pizza cooker that will cook pizzas at a high temp using materials I had lying around and as little fabrication as possible.
Any ideas or suggestions are welcome.
Start with 2 Weber 22.5" kettle bottoms. One will remain the bottom and hold the fire, the other will be used upside down as the top. The bottom I decided to use was one I had already cut the legs down on to use as a fire pit. I think the shorter legs are a must when you take into account the amount this weighs when done.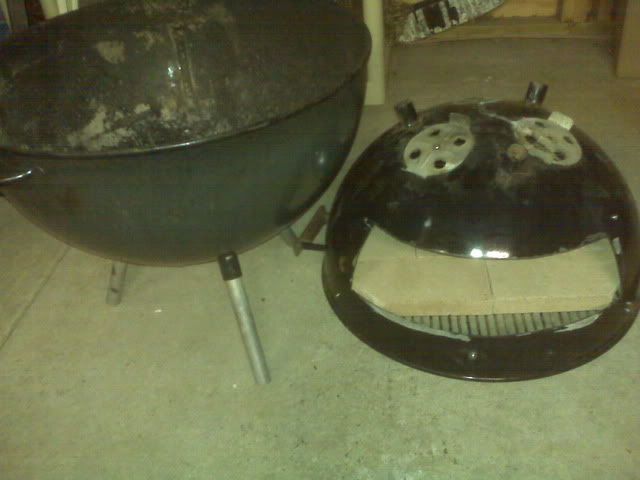 Decide which one you will use for the top and remove the grates. Remove one of the factory grate holders and mark out your opening hole, mine is
about 15 inches wide by 4.5 inches high. Cut the opening, I used a cutting wheel on a 4" grinder. Clean up the opening to remove any frays or
sharp corners.
Bend the factory pieces that hold the charcoal grate so that you can put the grate below them, instead of on top. This will become the roof of the oven.
.
Here's a shot of the charcoal grate in place as the roof. My first idea was to attach fire brick to the grate to flatten the top and provide heat. Due to weight though I think I am going to replace the fire brick in the top with a 16" round pizza stone. Should fit right in.