It is time to start my build thread. I asked a lot of question in Introductions and In Pompei oven build forums but my build is truly on it's way and I want to make sure I keep track of it.....not just to brag and share my happiness but to also share what I learn with others so they can take it and move forward with their oven dreams.
about 5-6 years ago I started looking at the idea of a big combination smoker/outdoor fireplace. I started gathering bricks (craigslist) and making sketches of what I wanted. In my internet travels I came across a few websites that featured Italian Pizza ovens....( I don't remember if this was one of the ones I first found). I had made a plan to break ground in the middle of summer but had to put those plans on hold. Job changes and a serious family illness took precident. My stack of bricks (about 700) sat in the side yard gather moss for several years.....and this year...I decided that I was doing it, so one weekend, one month ago (March 28), I grabbed a shovel, went outside and started digging. We had 3 enormous hedges that I dug up and replanted to the front yard. Then I tore up the apple tree that sat in this area taunting me for the last 8 years (the squirrels have always beat me to the apples). I dug up the peonies and planted them on the other side of the pool.
Next I put up a temporary fence and tore down the old fence next to the pool.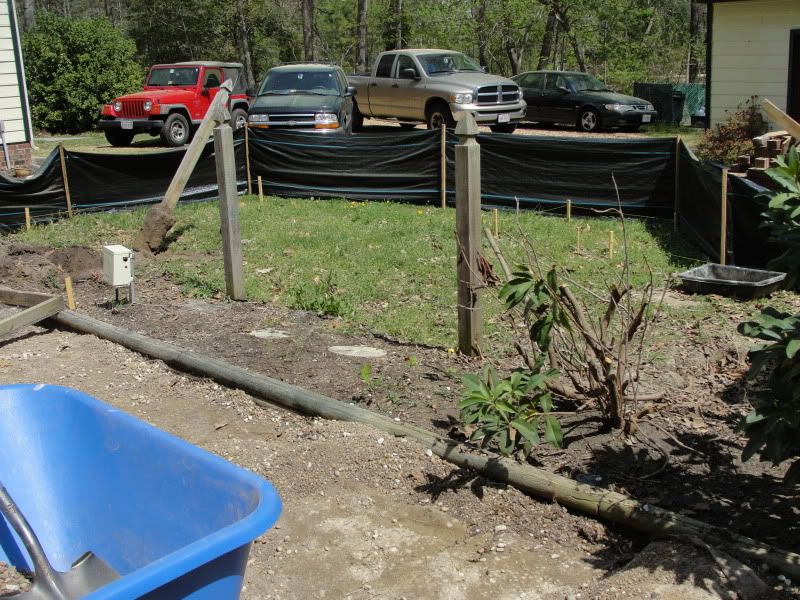 and I started staking out the area for the oven and the fireplace.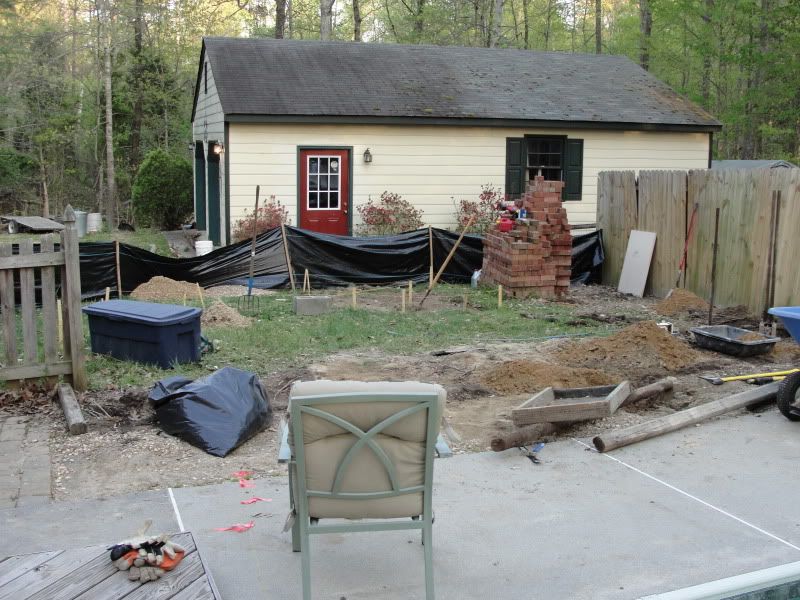 I couldn't believe that took up most of a weekend. A few days later my wife asked me to finish a project inside the house ( we redid our kitchen and I was supposed to trim out the bakers window to match the new cabinets.....So the next weekend was devoted to that window. I ripped out the pine casing and window sill and put a proper Sapelle window sill and casing all around. I also trimmed it out properly....she was thrilled and now is 100% on board with the Forno project.