Hope this is a good first post. My parents have a WFO oven that I cook in from time to time, but we'll be getting one at our house soon so I figured I'd browse around here.
This is a fast, simple dish that presents very well and tastes amazing. I actually made it up from stuff on hand at my parents one night (tomatoes and basil from their garden, prawns were in the freezer, shallots in the fridge, and I just bought the prosciutto on my way home).
2 pounds raw extra large shell-on prawns (8-12 count per pound)
1/4c + 1/4c white wine
2 medium sized shallots halved and sliced
2 tbs chopped garlic
2 cups cherry or grape tomatoes
prosciutto, use 1/2 slice per shrimp
olive oil
fresh basil leaves roughly chopped
thaw out the prawns in the refrigerator the night before, peel, and toss with 1/4 cup of the white wine.
cut the prosciutto slices in half lengthwise and wrap prawns with the 1/2 slice each. place the prawns in a large skillet or paella pan.
sprinkle the tomatoes, shallots, and garlic around the pan.
pour the remaining 1/4 cup of white wine in the pan
drizzle 1/4 cup of olive over prawns
cook uncovered in a medium hot pizza oven for about 10-15 minutes. Tomatoes should have a light char on their tops and prosciutto should be lightly crisped
as soon as you pull it out, sprinkle the basil on the prawns so that it starts to wilt but doesn't totally cook.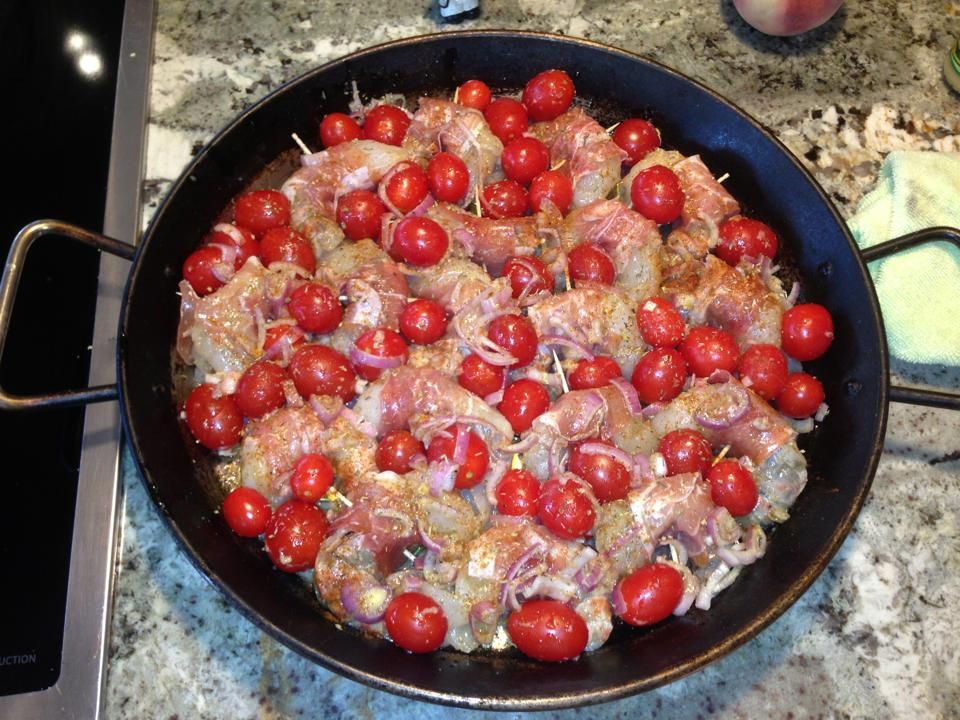 notes:
wrapping the prawns gets very frustrating because the prosciutto comes apart and sticks to the packaging. If it comes you can patch it back together by slightly overlapping the broken pieces and pressing together. once it's cooked you can't tell the difference.
I used toothpicks to secure the prosciutto but I don't think it's necessary and just adds time and tediousness.
I put it in loosely covered in tin foil for the first 5 minutes, afraid that the top would brown/burn too quickly. I don't think this is necessary, since I ended up having to cook it a little longer than I wanted just to get a light char on the tomatoes after uncovering. If the oven's too hot and prosciuotto gets to crispy too early, loosly cover with tin foil
I'll try to get more recipes and photos of stuff up. We actually rarely use the oven for pizza. It's almost all meats, veggies, seafood etc. We do large parties at our house for 100+ people using whole tenderloin roasts, salmon, lamb, etc. My dad's actually got two large ovens on a trailer that I used to cook filet and salmon for 300 people which I will not try again... that was a lot of work and on a 100 deg day.