I've been researching outdoor oven construction but did not want to use either brick, adobe or cement....
But since I've baked in terracotta flower pots I began to consider my options using that resource.
This example got me thinking: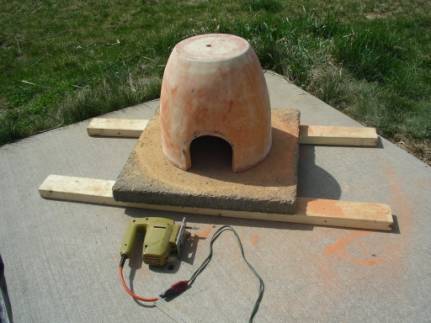 But it's a bit small. So I thought it through -- and wondered...
What if I used
two large terracotta flower pots
of the same lip circumference. I cut a upside down U opening in the bottom of
one
for a door opening and butted the two pots at their lip together horizontally. Now butted together, I'd support and embed them in a base of sand medium so that they were in the one horizontal plane and joined the two lips together (with?) -- something like a large squat clay cocktail shaker on its side.
I'd build up the floor horizontally inside the pot oven (with clay?sand?) and lay down a cooking slate on top of that..
Voila!
One terracotta oven.
A variation would be to coat the inside of each pot before I joined them with a layer of clay to increase the oven's insulation properties and maybe reduce its depth if necessary. I usually sculpt in paper clay and that may do the trick as I never fire it when I've made puppets.
No matter because the exterior is already fired terracotta the inner layer would be protected from weathering. It would be like a tandori oven on its side but not as narrow.
The exterior look would be snazzy terracotta.
One issue: would this work? All of it? Only part? None?
Additions:
some constructed support for the doorway as the terracotta opening may become brittle and crack when knocked by tools and gear passing through.
a little chimney hole towards the front -- made as a second opening cut in the pot either toward the top of the base or along the side wall of the front flower pot
Door? Use a terracotta pot saucer made for the pot size and cut across a tangent so it sat snugly overthe opening.(I could also cut an arch in a saucer to support and strengthening my oven doorway too using the saucer rim as arch support)
In my experience working fired terracotta is facilitated by soaking the pots in water before cutting and trimming.