I took my new Primavera 60 for a 2nd Test Drive yesterday. It's pretty exciting. My parents came over and we realized that my mother had never had one of my pizzas. I was a little nervous because working with the WFO was so new to me. I have the home oven pretty much down to not having to think things through, but with the WFO it's more of a live sporting event with far less time for errors in finding the sweet spots.
While I was heating this thing up, I figured I'd throw a few appetizers in there to try cooking some other items as well. I waited too long and had to do this at pizza temps! The oven dome had cleared so my Primavera was well above 800 degrees.
My first Appetizer was Artichoke Stuffed Mushroom Caps. They came out really nice! The tops browned quickly. I kept a close eye on them - turning the platter several times and pulling it out to cook in the doorway for a bit. After a couple of minutes only, I pulled them wrapped them in foil to allow the thick mushrooms to steam a bit before we served them. Delish!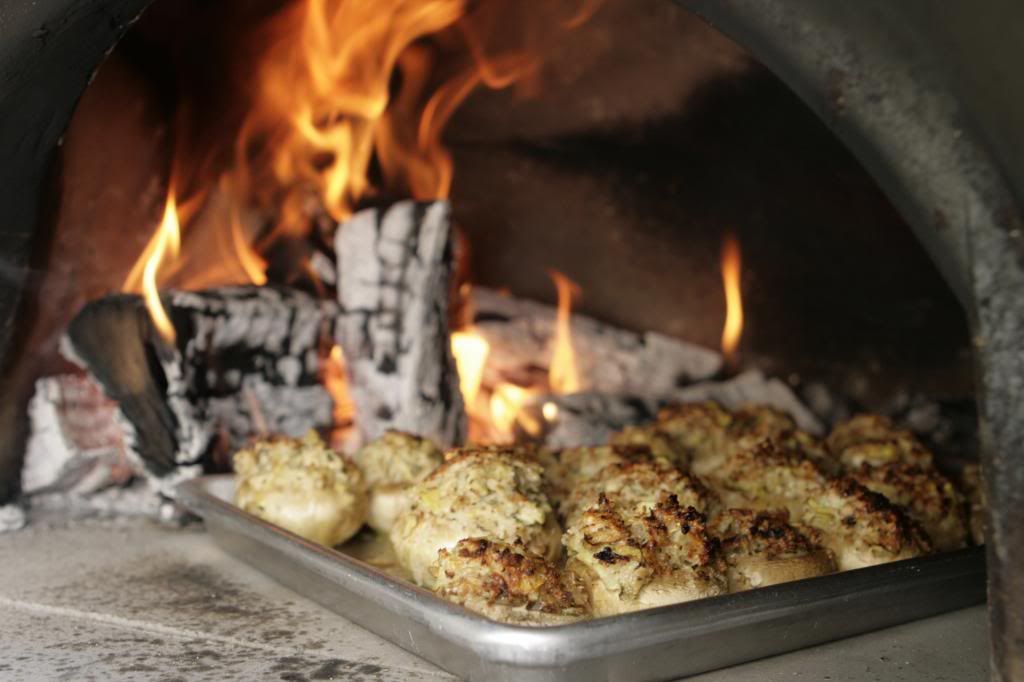 My next app was from James here at FB! It's a Sizzling Shrimp, or Prawns Pil Pil. Check out the recipe here:
http://www.fornobravo.com/forum/f12/...rimp-1718.html
I used Jalapeno's since I had them available. These were delicious. It's a perfect app to make at pizza temp. The shrimp cook quickly!
I also fired a salmon on a cedar plank. I was going to make a pizza with salmon and figured I'd also try out the oven for fish. This was a dance with the oven being so hot! The plank turned black and smoked quickly and I had to keep moving the fish around and keep it in the heart quite a bit to prevent it from burning. It came out great though. The top was slightly charred in places, but the inside nice and moist.
I gotta run, my son has a lunch break on his first day of Football 2/days....will add some pics of pizza in the next post.
So excited! So much fun cooking with fire!