Trick here is finding the stuff needed.
Bought one red clay brick yesterday, potter seems to know what he's doing. The brick is very light weight, I was surprised. There was an old oven, not pizza, with his bricks burning very hot and they looked okay. The one I bought is sitting in our outdoor wood burning cooking area where it will be in the flame and I'll see how it holds up. Cost P12, or about a quarter of a US dollar. (I'm from Oregon) Can buy bags of red clay as well for the refractory cement. Also found stuff I think is lime (called Zemcoat Superfine) which is advertised as stucco, in bags sold next to Portland cement. Stuff is white in color. Got the brand name and will research it.
I am so thrilled with yesterdays explorations! All is available, thank you God. Now a trip to Camiguin Island, a nearby volcanic island I can see out my window, looking for pumice, or perlite. If they're selling the stuff there, we're in business.
Another post I made on this forum before finding out I needed a 'build' thread copied and added here...
http://www.fornobravo.com/forum/3/re...tml#post148964
Been a few years since I was here but finally the houses are 99% done and I'm getting ready to start on the pizza oven. Right now we're sourcing some really great red clay we've seen in various pottery and tripod stoves made in the area. When we find it we'll mold, sun dry and fire the bricks ourselves, only way to be sure. Also planning a trip to Camiguin Island, a volcanic island to get perlite, aka pumice. Have a question about this stuff, is it ash or little lava rocks?
Another question, to insulate I'm considering layers. Two filled voids defined by three layers of fire brick (1st) and refractory concrete. (2nd & 3rd) Firewood is at a premium here and they also use "coconut coal" which is dried, toasted, coconut shells. Plan on using rice husks in the fuel mix because unlimited quantities are basically free. So insulation has to be very well done to save $. First layer of the oven is the fire brick set with cement and capped with refractory concrete. Then I'll set some lava rocks into the refractory concrete to support the next layer with a void between filled with perlite 100%. Then we'll build a 1/4" plywood form with cutouts allowing the lava to come through. This form will eventually burn away I'm sure. When we pour perlite rich refractory concrete it will be held up by the lava rocks which also shouldn't conduct heat due to the holes in lava. Above this poured layer, with more lava rock supports, I'll put fiberglass insulation. Someone mentioned the outside of their oven was 150 degrees. Even if my oven is this hot with a perlite filled void that's still not hot enough to harm fiberglass insulation, yes? Attics in the desert get hotter than that and fiberglass insulation is used. Then I'll encase the fiberglass in a void and pour a final layer of refractory concrete, using again lava rock supports through to the previous layer of concrete. Both voids are bridged by lava rocks. Then a nice tile mosaic...etc, then pizza. Sound reasonable? Good plan? Help me make it better, any ideas?
Here's a pic, the seawall addition is now done. The pizza oven will go on the main floor front right side. Just below and before the blue water tank.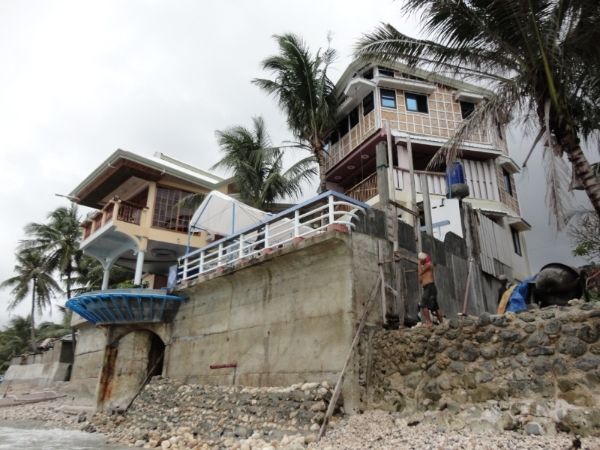 What it looks like up above...
The circular thing sticking out of the seawall is the pool. In yellow is Abby, 3 year old girl we're adopting with her 2 yo brother Augustine.
New lapdog, Gary, and me.
That's it, any help would be much appreciated. We're moving to make the wood fired pizza oven dream a reality! Help!
Thanks Forno Bravo for this...and thanks to the kind fellas who have helped me to date...cobblerdave, brickie in oz, and david s.