I'm still trying to cook all sorts of things in my new WFO. I was making pizzas and thought I'd make one with some salmon which would give me a reason to bake some salmon first.
Now, I knew going in, this would be a dance because I was fired up for pizza - not salmon. So, it was going to be a bit more interactive moving the salmon around to make sure it cooked and didn't burn. I think I did pretty well.
I threw a soaked cedar plank onto a tray to catch anything that would drip off the salmon. I drizzled the salmon with olive oil and lemon juice and then seasoned it with sea salt and pepper.
Into the oven it went. I didn't keep track of time, but as said above, I just kept pulling the tray out - turning it and putting it back in. I pulled it out and left it in the door for a while and then pushed it back into the oven - watching to make sure it didn't burn.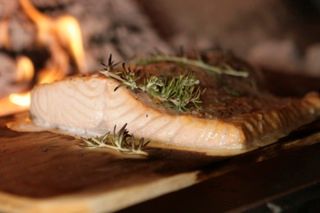 The wood started to burn - which was fine, but I monitored that as well.
Toward the end, I cut some thick slices of lemon and placed them on top of the fish. I was hoping that this would allow it to stay a little longer and make sure the inside was cooked through. I didn't want to over cook it because some of it was destined for a pizza.
Success!
The pizza was made with some Ricotta, sliced cherry tomatoes, chopped basil and Salmon. When the pizza came out, I drizzled some Lemon Garlic Aioli Sauce on the top.
Pretty nice!
This ended up on a pizza, but I want to know of any other techniques you all use for fish. Maybe I'll try firing up the oven for fish only next time and not run it all the way up to pizza temps...