Re: Lancer's Philippine Build, Close to Australia Anyhoo...
Thanks guys!

So here is the kiln. Took a piece of limestone off the top a little while ago, put it in a bowl and added water and...nothing. It didn't get hot enough. So, we pick up the last 50 bricks on Saturday and will be able to make the kiln taller and that will mean more space for coconut coal. Then I'll take a 12V fan and put it in front of the air intake. A good friend advised me to use a fan and I was considering doing that this time but didn't want it to burn too hot. This was a test case and I learned I need to force the temp up. More fuel, forced air...
The limestone was damp from washing and so the first thing the fuel had to do is create steam. Next time the limestone will be washed and dried prior to cooking.
Lastly I think I need more hardiflex scraps on the outside of the brick to stop breezes from taking away heat. Air moves between the bricks too easily.
Pics...
Start of construction. The kiln is built on a base 8" deep, filled with ocean gravel and bordered by 2x8s.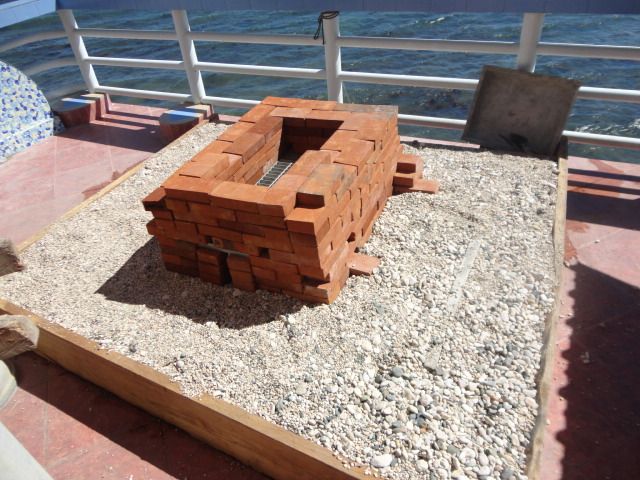 Its 2 bricks wide at the base, 1 brick higher up. The coconut coal sits on a steel grate.
This is the main air intake though there are 2 more smaller ones on the ends.