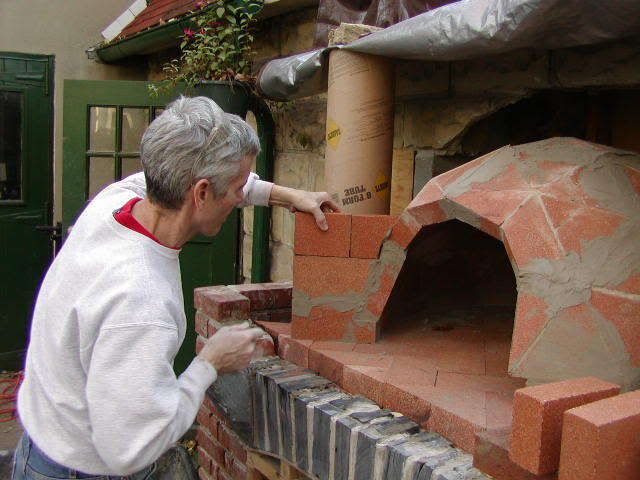 Good looking oven, and a pleasure to follow the posts. I have been watching for a while.
I don't mean to be a critic, but I would encourage you to carefully evaluate before enclosing the oven: A critical issue in masonary construction--of any type--is to avoid running faults or on-going lines from one row of material to the next. (I'm sure someone could explain this better than I.)
I constructed my Pompeii with little difficulty, but when I first fired it I found I made a mistake: about three of my cut bricks lined up to the degree that they shifted slightly, creating a small crack. It is nothing that will affect usage, and has not grown with use. But I was disappointed to see it shift somewhat.
As I look at our photos, it is apparent that you have "broken" all the masonary rules regarding runnng seams. I hope that I am mistaken, but I would be concerned that your hard work and ingenuity may work a little bit against you. At least consult with someone with more experience than me, and bring up to temp very, very slowly. Again, the engineering is great, except that the hexoganal pieces are actually several pieces, each with faults (where edges meet). It may not hold as well as one would hope.
Perhaps this is not an issue. But there are enough qualified builders here to offer some good feedback on this issue.
Best of luck and thanks for letting us watch!
Michael
aka PizzaMan